Denture and Dental Implant Specialist
Welcome to the Medina, OH dental practice of Board-Certified Prosthodontist Dr. Sanjay Karunagaran (the owner) and Board Certified Oral and Maxillofacial Surgeon Dr. Michael Horan.
We are proud to serve our local community as well as the entire Cleveland Metro Area and surrounding towns, including Strongsville, Brunswick, Wadsworth, Medina, Mansfield, Hinkley, Akron, Copley, Canton and Fairlawn.
Dr. Karunagaran holds the distinction of the following:
Diplomate, American Board of Prosthodontics
Fellow, American College of Prosthodontists
Fellow, Royal Society of Health
Dr. Horan holds the distinction of the following:
Diplomate American Board of Oral and Maxillofacial Surgery
Fellow American College of Oral and Maxillofacial Surgery
Fellow American College of Surgeons
Your smile is integral to your appearance and self-confidence, and it starts with healthy teeth and gums. Here at Frontier Dental, you can expect to receive high-quality dental care along with a wide variety of dental processes that will upgrade and beautify your smile. We provide everything from standard dental cleanings and examinations, cosmetic smile upgrades for a beautiful smile, to restorative dentistry for difficult oral health issues. We are a comprehensive dental treatment office and aim to treat our patients with the highest standards of care.
Why See a Prosthodontist?
Dentures in Medina
This is what we do best at this practice! This is what Dr. Karunagaran has completed Graduate training in making Complete and Partial Dentures. As a prosthodontist no matter how simple or complicated your situation, please come and see us for a free consultation. We are certain that you will not be disappointment. You can even talk with some of our patients if you need to or just check out our reviews. If you have had poor success with dentures do let us know as we might be able to help you.
For those who want something with added security, IMPLANT DENTURES are a really great option for them. Ask about our Affordable Implant Denture Package. This treatment can offer better outcomes. Patients are able to eat better and more importantly it gives them incredible confidence in public as they are never worried about their dentures falling out. We offer a range of options to fit your budget so let us know. LOOK AT OUR DENTURE PAGE UNDER SERVICES FOR DETAILS OF AVAILABLE OPTIONS.
Dental Implants in Medina
We are American Dental Association accredited Dental Specialists in placing and restoring dental implants in Medina, OH. Living with missing or damaged teeth not only changes your appearance, but it also affects the way you eat or speak. You have many options to restore a missing tooth, including dental implants, dentures, and dental bridges to restore your smile, including:
Dental Implants—Missing teeth can be an embarrassing issue, but you have many options for tooth replacement. Dental implants are permanent replacements that allow you to eat, smile, speak, and live with confidence. Considered the gold standard of tooth replacement, dental implants look and feel just like your regular teeth.
All-on-Four—For patients who need multiple teeth restored, this dental process utilizes four strategically placed dental implants to support full dentures that will not shift or fall out.
Implant Dentures—This is the ideal tooth replacement if you are missing multiple teeth on your upper, lower, or both arches. Some patients don't like the idea of surgery, making this option perfect for them. Complete dentures are comfortable and easy to maintain.
Implant Partial Dentures—For patients who are missing one or two teeth and do not need complete dentures; this is the perfect tooth replacement prosthetic. Partial dentures bridge the gap between two teeth and are removable.
Dental Insurance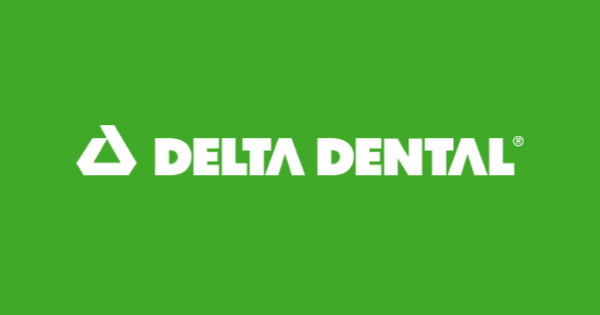 We are in network with Delta Dental.
If you do not have dental insurance, do not worry as we have a selection of package options and payment plans for our prosthodontic services.
Consultation Visit
We pride ourselves on striving to provide quality care to all our patients and most of our treatments therefore take a lot of time to complete. We stress this at the start of the appointment to avoid confusion. It is hard work but well worth the effort in the end. The consultation visit is the starting point of where we begin the process and it is critical to our success. You will arrive at the office with your completed medical and consent forms. Ann will then ask you some preliminary questions and complete a COVID questionnaire. A temporal scan will be taken to check your temperature. You will then be escorted to the X-Ray room where a whole mouth scan will be taken. This helps us look at the overall health of you teeth, mouth and jaw as we talk to you in order to plan your treatment options. You will then be escorted to the treatment room where Dr. Karunagaran will begin the conversation.
The consultation visit is all about finding out what you feel, need and want. It is just an informal and relaxing chat about what your expectations are and it provides an opportunity for you to let us know how we can help you and how we can bring your smile and confidence back. Once we have talked Dr Karunagaran will perform an examination of your teeth, gums and jaw clinically to see how he can make the improvements that you desire. He will then prepare a treatment plan that he feels will work for you and we will provide you with a few treatment options and the cost of those options. Once you have received this and talked with family we encourage you to talk with Ann, the office manager, as she will be able to explain all your options out clearly and also figure out a plan for your financial goals. She is very good at doing this and we encourage all our patients to seek her help. Once this is taken care of we will begin the scheduling process to initiate your treatment.
I hope you will find this process easy and enjoyable.