Dentures in Medina, OH
Tooth loss is difficult for anyone. Missing a tooth affects your appearance, your ability to eat certain foods, and your speech. People who experience tooth loss—whether from periodontal disease, injury, or tooth decay—can restore their health and appearance through dentures.
Dentures are removable dental devices that replace missing teeth and restore your beautiful smile. Dentures not only help you regain quality of life, but they also help fill out your face and prevent facial sagging.
Here at Frontier Dental in Medina, OH, we offer several options for replacing missing teeth and reclaiming self-confidence, appearance, and oral function.
What Are Complete and Partial Dentures?
Let's go over three types of dentures.
Complete dentures are the ideal tooth replacement if you are missing multiple teeth on your upper, lower, or both arches. Complete dentures are a reliable way to enjoy the foods you like and approving your appearance. Complete dentures often require the extraction of existing teeth to ensure a tight and comfortable fit.
Due to the lengthy healing process after tooth extraction, patients can enjoy immediate dentures, which are temporary dentures that act as a tooth replacement that the patient can wear during the eight weeks it takes to heal from a tooth extraction. These are fabricated within hours, meaning you can leave the dental office the same day with temporary dentures.
.
Partial dentures fit between existing teeth and do not require the extraction of existing teeth. Partial dentures incorporate your existing teeth as anchors to support your partial denture. They are custom-fabricated to match your natural teeth as close as possible for a healthy-looking smile.
Both dentures are custom designed and fabricated to fit the size and shape of your mouth. Complete or partial dentures are made using exact custom molds so they can fit comfortably over the gums and between existing teeth. Occasional adjustments may be necessary to maintain a proper fit over the years.
DENTURE PACKAGES
These options are for patients without dental insurance and for patients with dental insurances that we are not listed with. Do not worry as we will still file a claim for you with your insurance company, so you can get the most reimbursement from your insurance company for you. Our prices are very competitive and are often close to your lower dental insurance fees. Give us a call and come in for a consult so you can find out. We do provide a quality dental service at this office and to produce quality products and use quality dental labs and materials our fee may be higher in some instances.
Extraction with Premium Dentures- Includes Extractions, 2 Sets of Dentures (Healing Denture and New Premium Denture or Implant Premium Denture After healing)
Premium Complete Dentures- (Top or Bottom Denture) or a (Top and Bottom Dentures)
Premium Complete Denture Top and 2 Implant Bottom Snap-on Premium Denture
4 Implant Top Snap-on Premium Denture and 2 Implant Bottom Snap-on Premium Denture
4 Implant Top Snap-on Premium Denture and 4 Implant Bottom Snap-on Premium Denture
How many appointments do I need?
1. Primary Impressions
2. Custom Impressions of Mouth with Custom Trays and Custom Molding
3. Bite Registration and Tooth Selection for Shade
4. Try in of the Teeth and or Partial Denture metal Framework ask for YOUR APPROVAL
5. Delivery of Dentures
6. 3 Free Adjustments.
Do you make Basic, Standard and Premium Dentures?
No. All our dentures are made to a Premium Quality. We maximize everything that we do to provide a quality product that our patients will be more likely to use and more successful wearing. We use current processing methods, materials, premium teeth and custom molding methods to optimize your fit, bite, and esthetics.
Can you make regular dentures for me without Implants in Medina, OH?
Yes, we can make you what you want. In the end, you as the patient will always decide what is best for your situation. We are here to inform you of our opinion but we will support your decision and help you in any way that we can.
Do you accept dental insurances for dentures?
Yes we do, we accept most major dental insurances and this will reduce your cost. We currently accept, Delta Dental PPO, Cigna PPO, Metlife PPO and Aetna PPO dental insurances only.
Do you offer package deals for patients that do not have dental insurances?
Yes we do. Call us to discuss your options to fit your needs.
My denture is not working for me, what options do I have?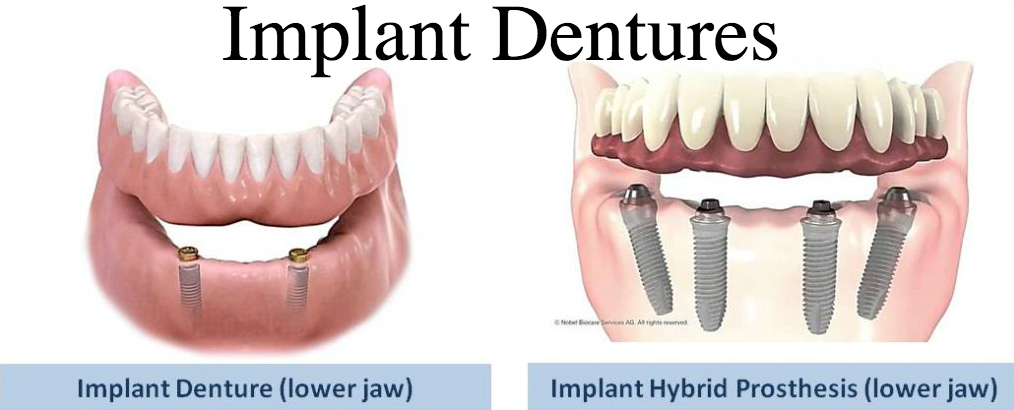 Not all patients are comfortable with the feeling of a denture on the roof of the mouth. Sometimes the palate can irritate the mouth, or make swallowing and speaking difficult. For patients who want an alternative to a full palate denture, we offer snap-on dentures. This procedure requires surgery to bond dental implants in the jaw bone that the dentures can snap-on. We then attach clips onto your denture that snap onto retentive abutments that are secured to your dentures. The abutments are called locators and they are very effective in providing retention, support, and stability to the denture. This means you can smile, chew and function in society with confidence.
Snap-on dentures are palate free and function like regular, healthy teeth; giving patients the ability to enjoy hard foods without discomfort. Palate-less snap-on dentures are a favorite among our patients!
What does the Implant Denture Look like?
Denture with an open palate so you can taste better
What are the indications for Implant Dentures?
If you don't have much bone in your jaws to support a regular denture.
If you cannot chew properly with your existing dentures.
If you have really thin tissues that cause soreness from the movement of your dentures.
If you grind your teeth.
If you have a gag reflex
Regular Dentures vs Implant Dentures
"Patient satisfaction increased when mandibular implant dentures were used instead of conventional or regular dentures" (Burns, 1995).
"Implant overdenture offers the advantages of improved comfort, support, retention, and stability. Annual bone resorption is more pronounced in patients who wear conventional complete dentures than implant overdentures". (Jacobs, 1993)
What Are the Benefits of Dentures?
Dentures are great for people who want to restore missing teeth with a natural-looking smile, but the benefits don't end there. Dentures help with everyday activities like eating and speaking, improving your quality of life. Advancements in dental technology allow us to design dentures using comfortable, natural-looking materials that will enable patients to enjoy a wide variety of foods that usually would have been off-limits.
Dr. Karunagaran is sensitive to concerns about replacing missing teeth and will work with you to get back the whole, healthy smile you desire. Getting dentures does not need to be an overwhelming experience, at Frontier Dental our dental team will explain the process with you through every step.
How do I care for my Dentures and Partial Dentures?
It is important to remove and clean your denture daily to prevent the build-up of deposits that can affect your tissues and damage its health. Good denture cleaning also can prevent candida infections in the mouth
Dentures should be cleaned and soaked and brushed with a nonabrasive agent. Do NOT use toothpaste
Dentures should be cleaned annually by your dentist in an ultrasonic scaler
Never place them in boiling water
Do not use bleach, but if you do use it do not soak it in bleach for more than 10 minutes. I do not recommend this.
Place them in water when you are not using them as drying can reduce their fit due to dimensional changes.
Using denture adhesives is recommended. I use them in all my new denture patients but you have to use them correctly and you have to visit your dentist regularly so he can look at your tissues
Zinc containing denture adhesives should be avoided at all costs as they have been proven to be harmful
All denture adhesives should be removed from the denture and the mouth at night
Do NOT sleep with your dentures. You have to give the tissues in your mouth time to rest
Visit your dentist or prosthodontist regularly to assess fit as you might need to have them relined and the teeth changed out.
How often do I need to see a dentist if I have dentures?
You will need to see the dentist every year to maintain your dentures. It may require you to have them relined or new teeth put on the dentures due to wear. Not visiting the dentist can cause your dentures to continue to lose its fit to your gums and this can cause destructive changes in your bone leading to bone loss. If you have implant dentures you may need to see the dentist to have you snap on retention inserts changed to keep the denture nice and tight to the implants.
Implant-Supported Dentures and Fixed Dentures
Not all patients enjoy the feeling of dentures slipping, or having removable dentures. For these patients, implant-supported dentures may be the best option. This dental process involves embedding dental implants through the jawline to support the full arch denture. In this situation, we add more implants in your jaw so we can clip the dentures entirely on the implants instead of the tissues. This will feel more like the teeth that you had before you lost them.
Implant-supported dentures are sometimes removable, like the bar overdenture below. They can also be permanently screwed into place and not removable and patients can enjoy the feel of permanent teeth that look natural.
Removable Bar-Overdenture Implant-Supported. This can be made without a palate so you can taste your food and feel everything.
Fixed Dentures which are not removable.
All-on-4 Dental Implants in Medina, OH
All-on-4 implants are a perfect permanent tooth replacement solution that results in a natural-looking smile. This dental treatment reduces treatment costs and is a graftless option for implant placement. Our patients are finished with the procedure in only a few hours and can enjoy a full arch restoration.
The All-on-4 procedure can replace multiple missing teeth using only four strategically placed dental implants—eliminating the traditional removal of all remaining teeth.
Your final bridge is made of a high strength ceramic called Zirconia, which looks and feels great.
How much are Implant Snap-on Dentures?
We are now offering package deals with a discount for both top and bottom jaw snap-on dentures.
Call us today to schedule a free consult and find out about our pricing.
Call to Schedule Your New Smile in the 44256 Area!
If you think you are a good candidate for dentures, we recommend that you call to schedule a consultation at our Medina, OH dental office. Dr, Karunagaran will help you navigate the process of tooth replacement options. Our dental clinic dedicates itself in providing a compassionate and welcoming visit so that patients feel comfortable every step. We commit ourselves to providing all the information our patients need to make a fully informed decision, and our goal is to watch you enjoy your new smile!
During your consultation, our dentist will perform an oral examination to determine if you are a good candidate for implant-supported dentures, dental implants, or conventional dentures. Dr. Karunagaran provides services for the whole NE Ohio region, including Wadsworth, Medina, Hinkley, Akron, and Fairlawn.
You shouldn't have to live with missing teeth or have dentures that cause pain or do not fit anymore. Our goal is to help you on your path to looking and feeling better. We are a local favorite and also service the Cleveland metro area and surrounding towns.